Disclosure: The August Bonjour Jolie Box was sent to me in exchange for a 100% honest review. All thoughts and opinions are mine, as are the photos. No other compensation was given.
For quite some time now I've been intrigued by the idea of subscription boxes but have been leery about making the leap to purchasing one because I was worried about whether or not it was a good way to spend my money. Pictures of nicely done up boxes are great, but what happens when the box you receive isn't what you thought it would be? After some reviews I read about a couple of the subscription box companies, I was skeptical and worried about spending my money on a box that's not worth it and contains items that are old and no longer useful.
Because of my fears and what I've seen others post, I decided that maybe I should approach companies about reviewing their boxes so my readers would be able to see what boxes are like and what kind of product they could expect. Bonjour Jolie is one of the first companies I approached and they gladly agreed to work with me, and I couldn't be happier.What a great company to work with. I absolutely love that it's a mother-daughter company, and their goal is to make you feel special as you deal with your monthly "friend".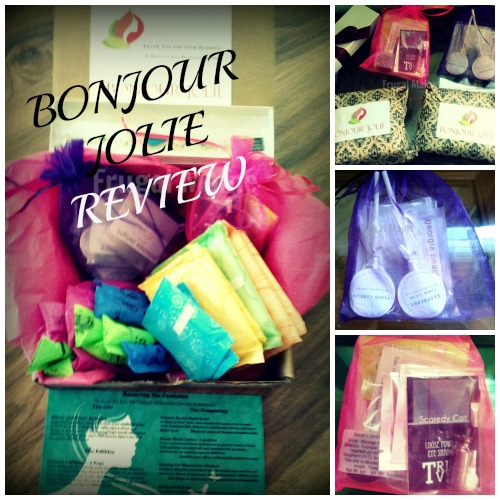 Bonjour Jolie offers monthly boxes for that "time of the month". Unlike what commercials try to lead people to believe, most women are not carefree, chipper and ready to take on the world when old Aunt Flo hits. Many of us are crabby, bloated, miserable and emotional. And it's during that time we tend to not feel appreciated or very pretty. Bonjour Jolie offers a solution to that problem.
Every month they ship out a box via priority mail containing items to help you get through. Contents include a special gift to make you smile, some tasty edibles, items for you to pamper yourself and some feminine care products, i.e. pads, tampons or panty liners.
When the August box arrived on my doorstep, it felt like Christmas. I couldn't wait to open the box and see what goodies were inside. The packages were up in bright pink tissue paper and secured with a sticker. And it couldn't have come at a better time because I'm due any day. Yay! NOT!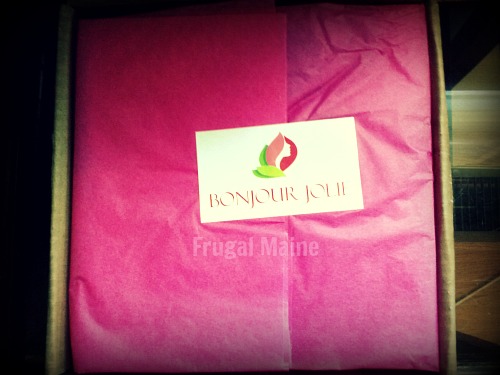 Inside the tissue paper were five packages. It was like opening my Christmas stocking every year. My stocking stuffers are always wrapped separately. It's something my parents have always done, so seeing how Bonjour Jolie puts their boxes together made me smile. And a bit nostalgic.
Also, the August box specifically featured products for women-owned businesses. I'm sure I'm not the only woman who appreciates that. Women are smart and savvy and it's nice to see a box that's for women and contained products by women.
I absolutely loved how this box not only carries necessities to get you through, but some things to also perk you up and help you remember that even if you feel like you got hit by truck, your insides are falling out AND you could rip someone's head off at any second, there's still reasons to smile. And I don't know about you, but a long soak when I'm having cramps feels wonderful, so I'm going to make use of the products sent to me, especially since next week my kiddos are gone and I'm going to be EXTRA emotional. Can you say the Perfect Storm?
I also really loved the information card that came with the box that describes each item sent, including the company they're from in case you want to purchase items directly from them.
The photos below show you what the August Box contained.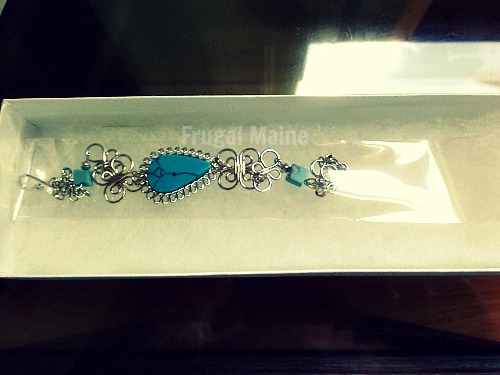 This bracelet is delicate and pretty and made from silver and stone.  It's not gawdy or something I wouldn't wear. I actually love it.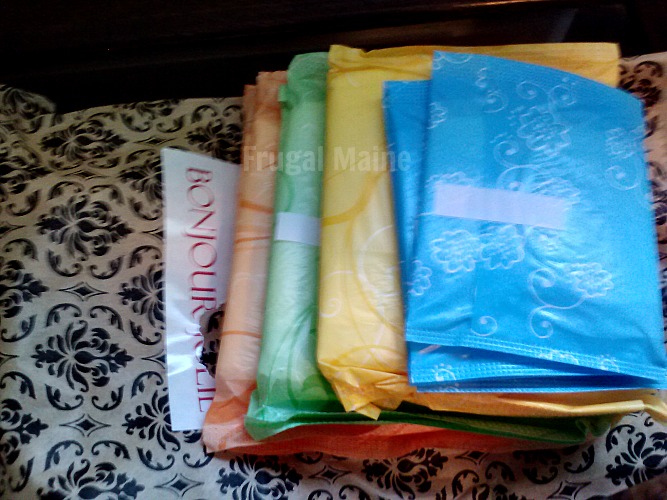 Because I wanted to show my readers what you can choose, I asked for a mix.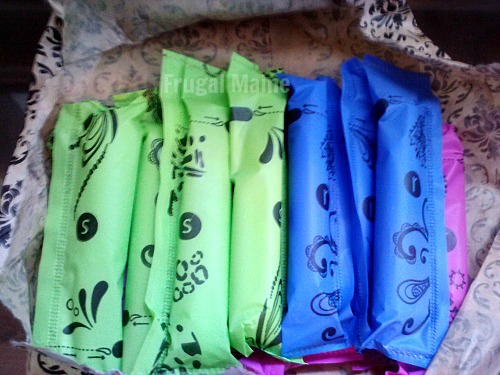 You can group your feminine care products how you like for a total of 25.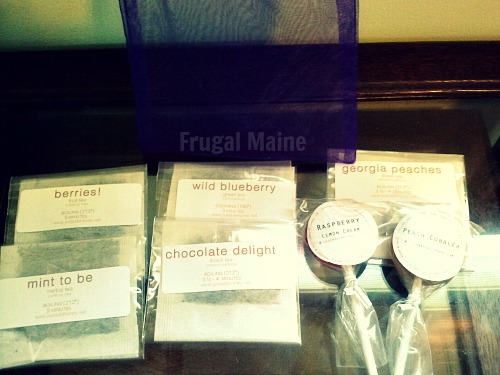 The purple sachets included two lollipops that were very yummy. In fact, my son stole the Raspberry one. And my fav was big the peach cobbler one.
There was also five different tea flavors: Berries!, Wild Blueberry, Georgia Peaches, Mint to Be and Chocolate Delight. I haven't had a chance to try all of them yet but I did try the Georgia Peaches one and it was delicious. The tea bag had a very peachy smell with a hint of cinnamon. And once brewed, you could taste both. I've found with other teas that once brewed, they don't taste like they smell and that was not the case with the one I drank. I would not mind drinking these teas all the time.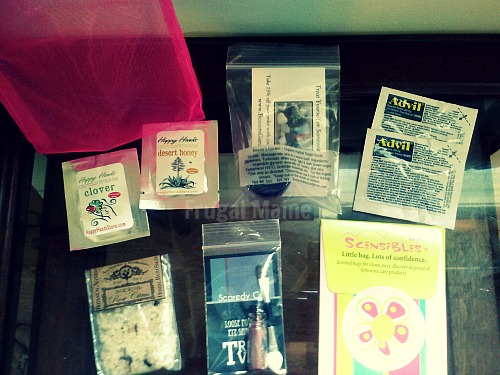 The Pampering (pink) sachet included two samples of hand lotion, a body sugar scrub sample, two packages of Advil, some rock salt for a bubble bath, some loose mineral eyeshadow in a shade of pinkish purple and some bags to dispose of your used monthly feminine care products.
*
If you'd like to purchase a Bonjour Jolie box, you can via their official website. The price of each box is $16 plus shipping costs.
Also, if you're a parent looking to perk up your daughter as she makes the transition from little girl to woman, there's even a teenager box. And as a mom of one biological daughter and one I consider my stepdaughter, I think it's great. The stepdaughter has already started but my Mini Me has not, but I suspect it will happen at any time…and she's going to hate it.  This is a difficult time in their lives, and they're adjusting to the changes in their bodies, so it's nice to see a company that thinks about them too.
*
If you're a subscription box company, and you would like me to review one of your boxes, please feel free to contact me at frugalmaine@gmail.com or via my Contact Me page. I look forward to hearing from you.